These unique vases sold out fast when introduced to the world on Mother's Day of 2002. These custom vases, made by art ceramicist Soyong Kang, are ideal gift for Mom on Mother's Day, Valentines, Christmas, Easter or ANYTIME.
More designs and colorful options will be added here over the next few months. Each hand made "momma vase " is unique and design to have its own special character. Recently, many have been sold to men looking for that special "mom gift" for their wifes.
he soft clay vases shown below are drying very slowly – awaiting their trip to the kiln for their first firing before the decorations are added.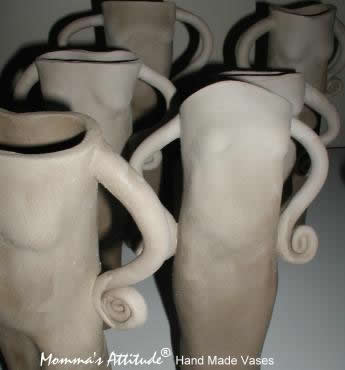 Blue and Black Momma's Attitude Vases
have been very popular recently.