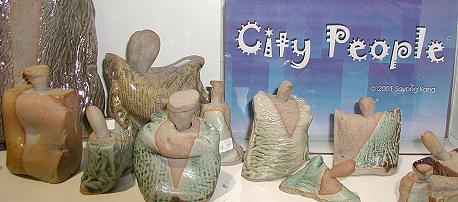 I visited New York City in March to see special exhibits at the Museum of Modern Art and at the American Craft Museum. As I was walking around Manhattan to these museums, I viewed the people in the streets like no other time before. They contrasted each other more than ever before. They were of various colors, sizes and shapes. They spoke all different languages and were even dressed in many types of clothing while walking in their individual styles.
My new vision of the City People of New York may have been due to the 30 degree temperature along with a mixture of snow and rain… a sharp contrast to the times I had visited the city in the summer months. The City People were now warmly wrapped up in various sizes and colors of coats, shawls and hats. Even the abundance of different shaped and colored umbrellas painted a new landscape amongst the shoulders, heads and window along the reflective wet streets.
After I arrived at one museum shop, I noticed a collection of perfume bottles. Looking up again through the window, I again viewed all the City People on that wet cold day. I was then hit with an inspiration to create perfume bottles that resemble City People on that day. Bottles would be sculpted of all different sizes, colors and shapes. Some bottles would even lean while others reclined, sat or even appeared to be walking.
These bottles that I now have on display personify all City People — people like you, your friends, your parents, and co-workers. Maybe you'll see one that resembles your mother-in-law, boss or ex-spouse. Maybe you'll see one that reminds you or your husband, wife, boyfriend or girlfriend.
City People derive their uniqueness when displayed in pairs or more. Create your own City People corner in one area of your home. City People can also be converted into flower or bud vases. Use fresh cut flowers or silk ones. They can also be a focal point of your Ikebana arrangements.
I hope you will enjoy using them and viewing them as your own unique City People as much as my friends and I have.
Soyong Kang Partington